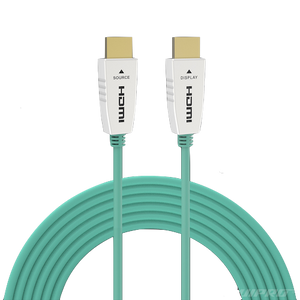 Description:

RuiPRO known and respected worldwide for innovation and absolute HDMI Fibre Optic cable quality has now developed the latest 8k HDMI "Ultra" High-Speed version for HDMI 2.1 TV's, projectors and other devices, all at astonishing speeds to 48Gbps and more.
The Ruipro 8K Hybrid cable requires no USB or AC power, can provide 4:4:4: chroma sampling, richer colours, darker blacks, brighter whites and supports eARC, ARC, VRR, Dynamic HDR, QTF, QMS, CEC, EDID, EMI-FREE, no signal loss. The cable is thinner and softer than traditional Fibre cables so has a tighter bend radius and less resilient to damage.
Each 8k cable is fully tested to meet all specifications and Certification is provided with every cable. Professionally display cable box which impresses customers.
Key Features:
Support up to HDMI 2.1 – 8K@60Hz and 4K@120Hz UHD display


Arc + eArc + Dynamic HDR + VRR + ALLIM + QTF + QMS

Color Sub-sampling of 4:4:4 with Deep Color & HDR

HDCP 2.2 fully supports EDID and HDCP communication

Connector: HDMI Type A to Type A male

Cable thickness: 4.8mm external diameter

Highest bandwidth is to 48Gbps

Support HDCP2.2 CEC/EDID.

Minimized plug casing for easy installation.

Transfer high-frequency signals by fibre, EMI/RF free for clear signal transmission

Up to 32 audio channels for a multi-dimensional immersive audio

CE/RoHS certificated
Available in varying lengths from 2m - 100m. Most common lengths listed only but if you're after other options, don't hesitate to email us.
We carry limited stock of these cables so you may find they come in a separate delivery directly from our distributor.