Collection:

HDMI Cables
One query we are constantly getting is "Do you guys sell HDMI cables?". Previously the answer is 'No', but now the answer is 'Yes!'. Now straight off the bat and maintaining our transparency, we do not manufacture these cables, we are simply a re-seller with all cables being posted directly from our distributor.
While we don't manufacture these cables, they align with our 'No Bullsh*t' philosophy. They're well built, serve the purpose they're designed for and they're a reasonable price. Much like our own cables!
For those requiring longer runs or want to future proof their setup, we offer 4k and 8k RuiPRO cables. RuiPRO needs very little introduction being a staple for those wanting to 4k (and now 8k) signals over long lengths.
We carry limited stock of these cables so you may find they come in a separate delivery directly from our distributor. Our distributor posts most cables at 2pm every business day via Express Post. Any back-ordered cables will generally arrive within 10 business days. If you're in a rush for your HDMI cable, you are welcome to email us to check stock levels and we can give you an accurate idea of when you can expect them.
RuiPRO 8k Ultra High Speed HDMI Cables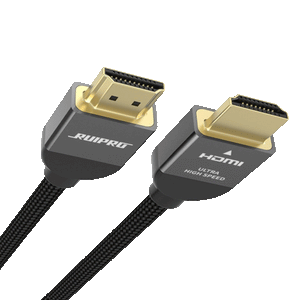 RuiPRO 4k HDMI Fibre Optic Cable 4K@60Hz
RuiPRO 8k HDMI Fibre Optic Cable 8K@60Hz