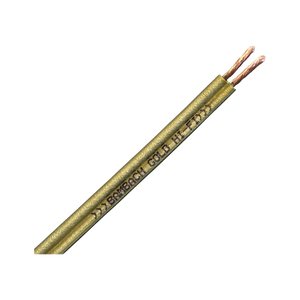 "All that glitters is not gold"... or in this case, it is!

We've come into a pallet of 14 AWG Bambach Gold Hi-FI speaker cable. Whilst we offer other variations of similar gauge wire, we just loved that this stuff is gold so had have it.

Yes, the gold does look fancy, but we're not going to pretend this stuff has magical properties. It's a suitable all round cable, manufactured in Australia.
Maximum Recommended Length by Speaker Ohm

AWG

mm2

2 ohm

4 ohm

6 ohm

8 ohm

14

2.64

6.0

12.1m

18.2m

24.3m

The boring stuff:
Manufactured in Australia
Comprising of 84 x 0.20mm conductors for a nominal area of 2.64mm (or approx. 14 AWG)
Ribbed on one conductor to identify pos/neg
Electrical Resistance – 7.56 ohm/km @ 20c
Oxygen Free Copper (OFC) to AS1125 Standards
Insulated with Gold RoHS Compliant PVC to AS3808 Standards
Approx. Outer Diameter: 4.3mm x 9.2mm
7.7kg per 100m
As a result of the manufacturing process, stripped ends will have insulation residue still attached. While this likely won't have an audible effect, we encourage you clean this off prior to use. We recommend alcohol wipes to do this.
10m and 25m lengths will be cut and loose hand rolled. 100m lengths come on a roll.
Please allow 1-2 business days for rolls to be posted.