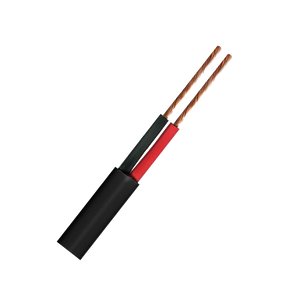 The wire used in our 'Superhero/Villain' Speaker Cable.
Maximum Recommended Length by Speaker Ohm

AWG

mm2

2 ohm

4 ohm

6 ohm

8 ohm

11

4.59

12.2m

24.4m

36.6m

48.8m
Underline
- Runs longer than 15m not recommended.

The boring stuff:
Manufactured in Australia
Comprising of 57 x 0.32mm conductors for a nominal area of 4.59mm (or 11AWG)
Oxygen Free Copper (OFC) to AS1125 Standards
Insulated with RoHS Compliant PVC to AS3808 Standards
Electrical Resistance – 4.1 ohm/km @ 20c
Insulation thickness - 0.6mm
Sheath thickness – 0.8mm
Nominal OD - 9.6mm x 5.7mm 
14kg per 100m
Available in 10m, 25m, 50m lengths or 100m rolls. For custom lengths, please contact us.
Please allow 3-5 business days for 100m rolls to be posted.
As it is extremely expensive to post due the weight of the wire, 50m lengths and 100m rolls will be sent via Standard Post (not Express Post) regardless of which option you choose at checkout.