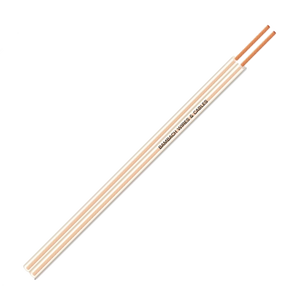 This wire sort of fell into our lap by accident and we managed to get it for a steal so we're passing it on for a steal!
We recommend keeping this to pretty limited runs in applications less than 7m but realistically, you're not going to notice much of a difference in high resistance speakers for runs 10m+. 
The equivalent product at Bunnings with less flexibility is $1.18-$1.98 per metre, we're charging just 80c per metre, posted!
Maximum Recommended Length by Speaker Ohm

AWG

mm2

2 ohm

4 ohm

6 ohm

8 ohm

18

0.75

2.4m

4.8m

7.3m

9.7m

The boring stuff:
Manufactured in Australia
Comprising of 64 x 0.122mm conductors for a nominal area of 0.75mm (or 18AWG)
Electrical Resistance – 26 ohm/km @ 20c
Oxygen Free Copper (OFC) to AS1125 Standards
Insulated with Clear RoHS Compliant PVC to AS3808 Standards
Approx. Outer Diameter: 2.7mm x 5.6mm
2.7kg per 100m
Available 100m rolls only. For custom lengths, please contact us.
Please allow 1-2 business days for rolls to be posted.