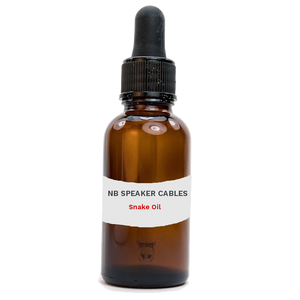 Pretty much the only thing missing to make our cables identical to many of our competitors cables, Snake Oil!
Just 3 drops of this on each end of your speaker cables will give your cable MAGICAL properties that defy science and create perfect sound.
By purchasing this product and combining it with any of our other cables, you also match the price of many of the self-proclaimed 'Audiophile' cables out there.
*Note: This is clearly a joke. Don't buy this unless you want to get sent a small vial of water. If you really do want a vial of water, then by all means, go ahead! Your contribution will only assist in keeping NB Speaker Cables alive and well <3*