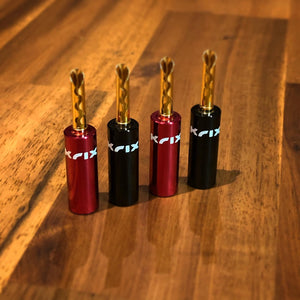 For those that wish to make their own speaker cables, what better plug to use than Krix's own BFA Banana Plug. These are solderless plugs and fixed by 2 screws 'clamping' to the wire making them easy to work with.

The same plugs we use in our 'Krix Edition' range of speaker cables.
We recommended pairing with our "Superhero/Villain" 11 AWG Speaker Wire.
Sold in packs of 4 (2 Red & 2 Black plugs).